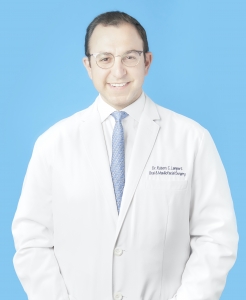 Dr. Robert C. Lampert - Oral & Maxillofacial Surgeon
Education
University of Medicine and Dentistry of New Jersey

Rutgers University – School of Dental Medicine

Albert Einstein College of Medicine/ Montefiore Medical Center
Residency
Rutgers University / University Hospital, Newark NJ
Certifications
Diplomate, American Board of Oral and Maxillofacial Surgery

Fellow, American Association of Oral and Maxillofacial Surgeons
Robert C. Lampert D.M.D. was born and raised in Rockland County, NY.  He attended Touro College where he earned a degree in Biology and graduated summa cum laude.  Dr. Lampert received his Doctor of Dental Medicine degree from the University of Medicine and Dentistry of New Jersey and graduated with multiple honors.  Among those were The academy of Osseointegration Award for excellence in Implant Dentistry, the Pierre Fauchard Academy Award for excellence in research, and the American Association of Public Health Dentistry Award.  During his time at U.M.D.N.J. he made Dean's list for academic excellence and received recognition for outstanding and dedicated service.  He then completed a General Practice Residency at the Albert Einstein College of Medicine/Montefiore Medical Center where he was able to gain more clinical exposure to all aspects of restorative dentistry, Dental Implantology and Oral and Maxillofacial Surgery.  After completing his training at Montefiore, he went on to complete five years of residency in the Department of Oral and Maxillofacial Surgery at Rutgers University School of Dental Medicine and the University Hospital, a Level One Trauma Center in Newark, NJ.  During his last year of residency he served as theChief Resident.  During that time he would perform the most complex procedures while having the opportunity to educate students and residents in both clinical and academic Oral Surgery.
While training at Rutgers, Dr. Lampert was an active member of the Craniofacial team which treated patients with complex congenital facial abnormalities including cleft lip and palate deformities.  He had the opportunity to travel to Bangladesh where he performed cleft lip and palate surgeries while educating the local surgeons in advances and current techniques in those procedures.
Dr. Lampert has had extensive training in full scope Oral and Maxillofacial Surgery.  His particular interests are in complex Facial Trauma and Reconstruction, Orthognathic Corrective Jaw Surgery, Wisdom Teeth Removal, Pediatric and Adult Anesthesia, Frenectomies, Jaw Tumors, Oral Lesions and repair of sensory trigeminal nerve injuries.  Dr. Lampert has a special focus on Dental Implants and a variety of bone grafting procedures.  These procedures include Cat Scan guided implant placement, sinus augmentation, alveolar ridge grafting, and use of platelet rich plasma and bone morphogenic protein.  When indicated, he can offer graft-less implant solutions for particularly complex cases.  Dr. Lampert also offers Facial Aesthetic procedures for the treatment of facial Rytids including Botox injections and dermal fillers for facial rejuvenation. Dr. Lampert is an attending physician and surgeon at Morristown Medical Center, a Level One Trauma Center, and a Clinical Instructor and Attending Surgeon at the Rutgers School of Dental Medicine where he educates both students and residents in Oral and Maxillofacial Surgery. He is also an attending physician and surgeon in the Department of Surgery at Saint Clare's Health System Hospitals.  Dr. Lampert has active certifications in Basic Life Support (BLS), Advanced Cardiac Life Support (ACLS), Pediatric Life Support (PALS) and Advanced Trauma Life Support (ATLS). He is an American Red Cross certified instructor for Basic Life Support for Healthcare Providers.
Have any Questions
Get in Touch